Church Building
The earliest mention of a church in Stinchcombe is in the Berkeley manuscripts: 'the Church of Cam with the Chapel of Stinchcombe was granted to the Abbot of St Peter's at Gloucester in 1156 by Robert Berkeley'. None of this early building remains, but the tower and porch of the present day church date from 1630.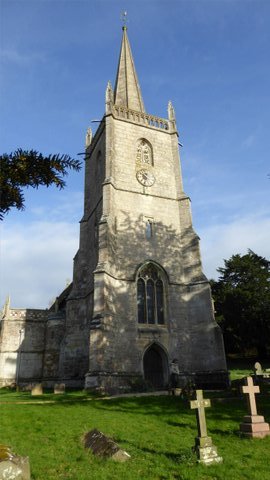 The current church is grade 2* listed and built of local stone. An extensive restoration of the building was begun in 1854 funded by the local landowner and incumbent Sir George Prevost, the Revd. Isaac Williams and others, all participants in the revivalist Oxford Movement. The work was carried out in the Tractarian tradition by the architect J.L.Pearson and the new building was consecrated on 26th July 1855. The Church has many fine features: stained glass windows, a reredos and the organ in a fine oak case. There are several beautiful table-top tombs in the churchyard.
With the help of the Friends of St Cyr's, various projects have recently been completed including the installation of a sound system, hand rails to improve accessibility and reordering at the rear of the building to create some more flexible space.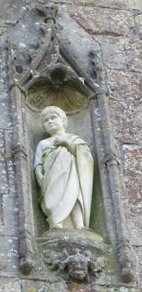 Who was St Cyr?
We believe that St. Cyr and St. Cyriac are one and the same saint. We know that Julietta was St. Cyr's mother, and over the years it would appear Cyriac has been shortened to Cyr.
Cyr (or Cyriac) was the three year old son of a Christian woman, Julietta, who was crucified in about the year 303 AD during the persecutions of the Emperor Diocletian.
She refused to answer questions or deny her faith at her trial before the Governor of Silicia. The child appeared with his mother on this occasion and is said to have affirmed his belief in the Christian faith, at the same time boxing the ears of the Governor who had taken him on his knee.
The enraged official threw the child Cyr (Cyriac) to the ground with such force that he struck his head and was killed instantly.
The dedication to St. Cyr (Cyriacus, Quiricus) which means 'the Lord's' or 'Sunday Child' is a rare one in England.